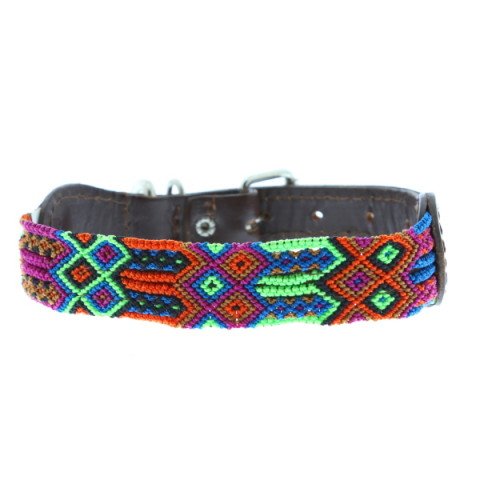 ALTZAYANCA Mexican Dog Collar
This product is sold out in this declination.
Sold
Dog neck from 27 to 32 cm
Dog collar usually suitable to Jack & Parson Russell terrier, Dachshund, Whippet, Andalusian Bodeguero, Scottish terrier, Pug...
Weaving width 2,5 cm
All of the Ethnic and Chic Fashion for your Dog!
Discover our unique designed Mexican handcrafted creations, from the heirs of the Maya or Zapotec culture.
Did you notice? Each dog collar bears the name of a Mexican City or First Name! ?
Weaving, Beads and Leather
Ahorasi creations materials are carefully chosen to ensure you a beautiful and lasting craft product.
The cow leather is finished by hand, with the greatest respect for tradition.
Maintenance
The nylon or cotton weaving is resistant to water and soap. The dye will not run! You can clean chaquira beads with a damp sponge.
The cow leather will tend to change with time and will require a bit of grease to nourish it if need be.
4 to 7 Working days - Shipping Lettre Suivie or Colissimo - Returns accepted within maximum 14 days (Ahorasi GTC Clause 11)
participated in the making of this handiwork
WEAVING OF THE COLLAR

These woven strips of approximately 1m long by 3 to 5 cm wide are cut (as you will see in our video report) to match the different dog collar sizes. They are very popular with the Mexican people who wear them as belt on their traditional clothes.
MEXICAN COLLAR MAKING OF

The weaving and shaping of an artisanal dog collar require the intervention of many talented craftsmen. Discover the major steps of a New Ethnic and Chic Trend Ahorasi Creation!